Barbara Slade Jagodić bravely built her career as one of the first web journalists, as well as one of the Jutarnji.hr initial web editors. She is also known for being one of the first community managers in Croatia, where she then entered the corporate world as a specialist in digital marketing and PR brand.
After all, she decided to start her own agency (slade.hr), which assists clients in improving their online visibility. Furthermore, she willingly offers her knowledge through various blogs on portals as well as her own content marketing & SEO courses.
As a result, throughout this interview, she expertly remarked and gave valuable tips on content marketing, SEO, social media, branding, and advertising, as well as an inspiring story that led her into entrepreneurial waters.

"It's all about content," as they say. Could you tell us a bit about what we may anticipate learning more about your talk at the LEAP Summit?
It seems that nowadays everybody writes, makes videos and publishes content. Everybody wants to be seen.
Let's talk about written content for now. There are so many blogs out there. The estimated global number of blogs is 570 million – and 7 million blog posts are published daily!
But what is more interesting is that 91% of all content will never get an organic click from Google (source: Ahrefs). And today we know that around 70% off all online experiences start on a search engine (Google is responsible for 90% of the market share).
Most probably your content belongs to this "never gets a non-paid organic click". And it means less money for you.
Content marketing generates over three times as many leads as outbound marketing and costs 62% less. (Demand Metric)
My lecture will be on SEO content marketing – how to produce content that will get those clicks.
Writing stuff just because you can is not a content strategy. Writing stuff backed on keyword research and knowledge on what answers and solutions your potential customers are looking for is the only way to win at content marketing.
What happens when you mix digital advertising with strong content marketing? Is it possible to reach a better result only through content marketing?

We often see questions like: PPC or content- which is better?
But the real question should be: Which is better for you at a particular moment and for a particular goal? PPC and content are both situation-specific.
When you need to sell something ASAP, PPC can help you with that. SEO and content take time.
But you don't want to pay for ads and lead people to a website with content that sucks.
And you want to save some money in the long run – SEO content marketing can help you with that- so you can be visible on the SERP (search engine result page) and build ROI year after year.
I'd say that  content marketing maybe is better in terms of  longevity and cost-effectiveness.
Can you give us three guidelines for writing an ad that will encourage users to click on it anyway?
Write about solutions, not products

(we don't need more products in our lives, but we need answers and solutions to our problems)

Talk to the customer

(it's "you", not "us")

Use active voice

(include a verb in the copy)
What steps should we take before building or optimizing our website?
Market research and keyword research should be done before creating a product and the website for promoting that product. Find products for your customers, not the other way around.

Find your customers' pain points.

Investigate your competition. What are they missing?

Choose content and functionality over design.

Focusing on what users will consume on your site before sketching a wireframe will allow the designer to focus on what really matters — delivering content to users in a clear way.
What are your must-have recommendations for social media accounts both for personal branding and for the brand as a whole?
Choose one platform, max two, and focus.
You don't have to be present on every single social platform just because they exist.
For personal branding you can choose Instagram, TikTok, YouTube, LinkedIn or even Facebook – the choice depends on your target audience. Be present where your target audience is present.
And don't post occasionally. Invest a lot of time and effort in your content. Provide original and unique content – useful or fun – to gain visibility.
Stand for something.
Brands can get much for social media since it allows for easy and effective brand building. One great benefit over traditional media is that you can get your brand in front of people much more quickly.
 You can build a community around your brand on social, just like GoPro has been doing with user-generated content for a decade now. The brand's cameras are literally called "Heroes," and they make GoPro owners the heroes of their own stories. 
If using Facebook for branding, focus on building a community with a Facebook Group.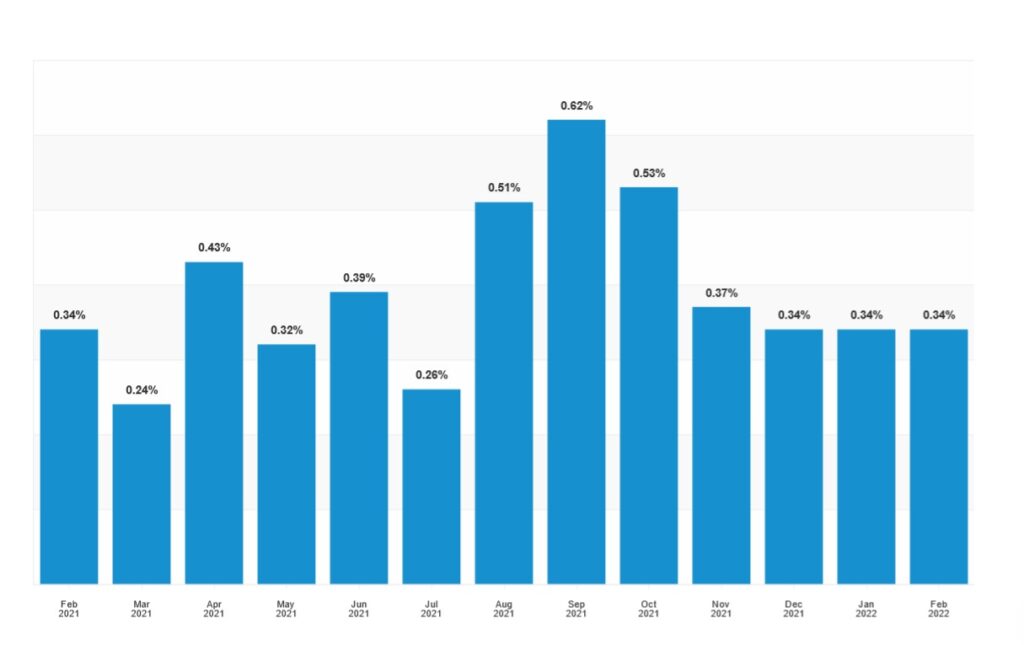 screenshot: Monthly Facebook page engagement rate (socialstatus.io)
Pages are just a waste of time and money in most cases.  Even when people like your Page, they still don't engage because the algorithm works against Pages (and they want you to pay for ads). The average public engagement per post on Facebook is 0.34%. (source: socialstatus.io)
We see more content from Groups in our Feed because people interact with each other, while on Pages it's the brands that dictate the conversations. And we hate talking to a wall, we prefer talking to people.

Given that you have a representative LinkedIn profile and are actively analyzing and advising others on how to build one properly, what typical LinkedIn profile mistakes have you noticed?
Number one issue is your title: usually nobody knows what your job is really about, what exactly are you doing. If you're vague about what you do and know, maybe you're missing and opportunity to connect with somebody that would be really valuable for you.
I stopped being "SEO agency owner" because:
a lot of people don't really know what is SEO

a lot of people are afraid to talks to CEOs and owners
Furthermore, almost 50% of all "About" sections are written like this:
"Experienced bla bla with a demonstrated history of bla bla…proven strong skills/skilles bla bla…"
Passive voice and unoriginal text does not make you and interesting person.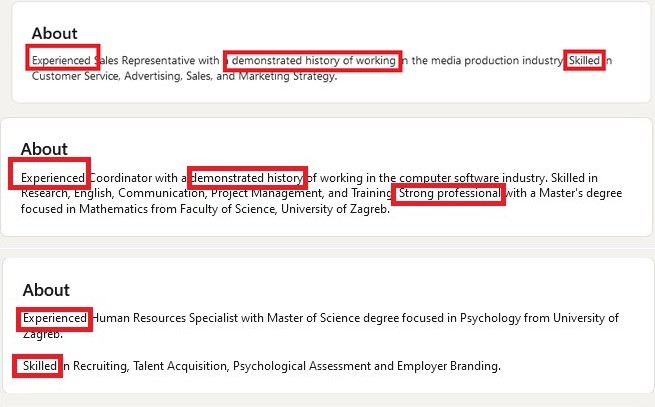 Is it possible to discuss "trends" in content marketing? And, if that's the case, what are the present ones?
Video content for sure! I advise everybody to invest in video creation, for their websites and social media platforms, since younger generations tend to consume more video content than ever. And it's here to stay.
Also, local content marketing is something that should not be overseen. Almost 50% of all Google searches include a location. "Near me" searches are constantly rising…

What do you believe are the top three SEO tools that combine several functions and are simple enough for beginners to use?
Google Keyword Planner, Google Analytics and Google Search Console are the best free-to-use and simple tools.
Keywords Everywhere is a simple and useful plugin for Firefox and Chrome that tells you about search volumes. But it's not enough for creating keyword-based content strategy, especially if you live outside USA, Canada, South Africa, UK, India, Australia and New Zealand.
Ahrefs and SEMrush are professional SEO tools but lacking that simplicity for pure beginners. And they cost a lot more.

You had a great career before deciding to become your own boss. Can you compare these two professional paths, and what are the most important lessons from which you learned the most?
Being an online journalist and editor, then social media, content marketing and web development person, helped me a lot on my journey to start my own business. 
I learned a lot about content, publishing, analytics, website management, PR, planning etc. I also learned about the value of your work-life balance and motivation.
To me, working for somebody else on building their dreams happen, while my dream in on-hold, was frustrating after 20 years of being an employee. Sometimes I'd get a boss with less knowledge or an obsessive micro-manager and working under was an additional frustration. My motivation for learning and working was sinking…. Free personal time was often looked at as not-trying-to-hard.
I planned to resign and started working on my dream while still working for others.
I said now or never after giving birth to my precious girl and resigned from my daily job. I knew I wanted to be a present mum, who will also teach her child how to be independent. 
Now I work 4-6 hours per day while making more money than before, and I have a lot of time for my daughter. Most of all, I'm happier than ever before with what I do because I set my own rules and choose clients.

What are your tips for those who want to get started in the field of content marketing & SEO, including how to get started, and from where they can learn the most?
Follow and connect with SEO and content marketing experts on LinkedIn, read their posts (follow hashtags such as #SEO, #Content marketing, #SEOsavjeti etc.), read their blogs (mine is in Croatian, you can check it here- Blog o digitalnom marketingu) , read a lot of books (various topics, since you can learn a lot about people from them, especially from psychology books)…
You can attend an online SEO course, learn about video production or anything that interests you in the field of content marketing.
If nobody wants to give a chance to practice your knowledge, start your own blog and test different content strategies. Show us your thirst for knowledge and your results!